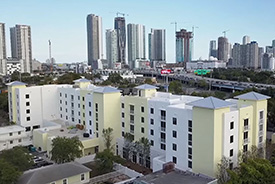 Montpelier, VT (January 30, 2020)
-
National Life Group is sponsoring a Super Bowl party this weekend in Miami at the Lotus House homeless shelter for women and children.
The company is providing breakfast, lunch and dinner on Saturday and Sunday to guests at Lotus House in the Overtown neighborhood just northwest of downtown Miami.
"Considering that there's a lot of celebratory eating going on in Miami this weekend, it made sense to us to do our part," said Mehran Assadi, Chairman, CEO and President of National Life. "We're providing breakfast, lunch and dinner on Saturday and Sunday, an estimated 1,700 meals. It means Lotus House has a few more resources to throw a party on Sunday during the big game."
Lotus House has planned a game-watching party on Sunday for the mothers and children who are its guests. It will include a special menu, games for the children and televisions to watch the matchup between the San Francisco 49ers and the Kansas City Chiefs.
Lotus House is dedicated to improving the lives of homeless women, youth and children, where families are able to live free of rent for up to a year where they can also access a variety of services that will help them transition to new homes and better lives.
"We are a leader in addressing the special needs of homeless women, youth and children with innovative, holistic, evidence-based solutions to break the cycle of childhood abuse, domestic violence and homelessness," Lotus House says. "In the dreams come true of those we serve, we are all enriched by the fruit of their potential realized."
National Life is committed to living its corporate values to Do good. Be good. Make good. "Our company is built around nurturing relationships, not just among our clients, but also in the communities where we live and work and play," Assadi said.
National Life is here to bring you peace of mind. We've been keeping our promises since 1848. Believe in tomorrow, do good today. Learn more at NationalLife.com
Contact: Ross Sneyd, corporate communications, National Life Group, 802.229.3866
National Life Group® is a trade name of National Life Insurance Company, founded in Montpelier, Vt., in 1848, Life Insurance Company of the Southwest, Addison, Texas, chartered in 1955, and their affiliates. Each company of National Life Group is solely responsible for its own financial condition and contractual obligations. Life Insurance Company of the Southwest is not an authorized insurer in New York and does not conduct insurance business in New York.
TC95211(0417)3