National Life Releases 2018 Annual Report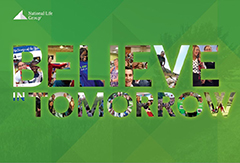 The company highlights its most successful year ever
Montpelier, VT - (May 14, 2019) National Life released its 2018 Annual Report, which highlights a record-setting year and the company's 170th anniversary.
"We remain one of the fastest growing life insurance companies in America1," said Mehran Assadi, Chairman, CEO and President. "We're proud of this growth and our opportunity to serve even more families and businesses as well as do good in our communities."
Among the accomplishments noted in the report:
Life sales have grown 252 percent in the past decade – from $88 million in 2008 to $309 million in 20182
$2.5 billion was paid to policy owners in benefits3
The National Life Group Foundation budget was doubled to $2 million
The company was included in the Fortune 1000 list and America's Magnificent Eight Exceptional Businesses
All of the details of the year can be found in the electronic version of the report.
National Life is here to bring you peace of mind. We've been keeping our promises since 1848. Believe in tomorrow, do good today. Learn more at NationalLife.com.
Contact: Ross Sneyd, corporate communications, National Life Group, 802.229.3866.
National Life Group® is a trade name of National Life Insurance Company, founded in Montpelier, Vt., in 1848, Life Insurance Company of the Southwest, Addison, Texas, chartered in 1955, and their affiliates. Each company of National Life Group is solely responsible for its own financial condition and contractual obligations. Life Insurance Company of the Southwest is not an authorized insurer in New York and does not conduct insurance business in New York.
Sales figures and rankings are based on the consolidated results of all National Life Group companies as of 12/31/18.
1 LIMRA Sales Rankings, 4Q2018; Among all reporting life insurance companies from 2013-2018.
2 Life Insurance Weighted Net Annual Premium (WNAP). For NLIC only: $55M.
3 Life insurance and annuities benefits paid. For NLIC only: $714M
TC107831(0519)1