National Life Reduces Work Force in Face of Economic Downturn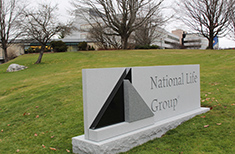 Montpelier, VT - (June 24, 2020) National Life Group reduced its work force this week to respond to the economic downturn caused by the Covid-19 pandemic.
"Ata is a seasoned professional with a proven track record in distribution and registered products—a veteran of our industry with over 30 years of experience," said Mehran Assadi, Chairman, CEO and President of National Life, who announced the transition.
The reductions affected both of National Life's primary offices, in Montpelier, Vt., and Addison, Texas.
"Our departing employees have each played a meaningful role at National Life and the painful need to address current realities does not diminish their contributions," said Mehran Assadi, Chairman, CEO and President of National Life. "I thank each one for their service to the Company."
A total of 95 jobs were affected, 53 in Vermont, 30 in Texas, and 12 in other remote locations. National Life's total employment companywide stood at 1,400 before the reductions. The company will offer severance pay, as well as reimbursement for health, dental, and vision coverage, to impacted employees.
Assadi said that National Life does not anticipate any further job reductions.
"While it is impossible to predict the course of this virus or the extent of the economic recession, I know that we – National Life – will emerge from this crisis even stronger," he said in a message to employees. "The grit, determination and resiliency that you demonstrated as we transformed overnight into a virtual company will carry us into an even brighter future."
National Life's employees have been working remotely, with the exception of a few dozen essential workers who continue to report to the office, since mid-March. A phased return to the office is currently planned and the company has stated it will not return before July 20.
National Life is here to bring you peace of mind. We've been keeping our promises since 1848. Believe in tomorrow, do good today. Learn more at NationalLife.com
Contact: Ross Sneyd, corporate communications, National Life Group, 802.229.3866.
National Life Group® is a trade name of National Life Insurance Company, founded in Montpelier, Vt., in 1848, Life Insurance Company of the Southwest, Addison, Texas, chartered in 1955, and their affiliates. Each company of National Life Group is solely responsible for its own financial condition and contractual obligations. Life Insurance Company of the Southwest is not an authorized insurer in New York and does not conduct insurance business in New York.
TC112689(0220)P