National Life Opens On-Site Health Center For Employees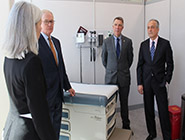 Montpelier, VT - (April 24, 2018) National Life Group opened a new on-site health center on Tuesday, becoming one of the first companies in Vermont to open a full-service health care facility for its employees.
"At National Life, we care about our employees and their well being, not only when they're sick, but when they're healthy and trying to stay that way," said Mehran Assadi, Chairman, CEO and President of National Life.
Assadi was joined by Vermont Gov. Phil Scott and Mark Butler, president of Cigna New England, in formally cutting the ribbon on the new health center, located just off the main lobby of the company's Montpelier headquarters.
"As my Administration puts an emphasis on preventative health care and works to make Vermont more attractive for young working families, it's great to see National Life offering a benefit that can contribute to both those efforts," said Scott. "National Life has been a great employer and I appreciate the company's commitment – and that of all of Vermont businesses – to their employees and to the state."
The center will be operated by Cigna Onsite Health and will be staffed every day with a physician's assistant and a medical assistant, as well as a part-time employee assistance counselor. National Life, which will celebrate its 170th anniversary in November, has a long history with Cigna. It has contracted with Cigna to provide employee health benefits for more than 70 years.
"We congratulate National Life for taking this important step to help improve the health, well-being and productivity of their employees," said Cigna's Mark Butler. "Having an onsite health center makes it easier and more convenient to access health care. National Life employees will now be able to receive the quality care they need when and where they need it."
In addition to the new health center, National Life also has a fitness center with exercise equipment and classes for employees at its home office. It also has a network of hiking trails on its Montpelier campus and provides snowshoes in winter and bicycles in summer for employees to borrow.
"We want our teammates to be with us for a very, very long time with a healthy mind and a healthy body," Assadi said.
Any employee, regardless of whether they participate in the company's health plan, will be able to use the new health center. For most it will be free, although for some there could be a $20 fee, depending on their personal health plan.
The clinic will provide minor office-based medical procedures; routine physicals; care for sprains, sore throats, infections and other illnesses; vaccinations and immunizations; monitoring of chronic conditions; and other health and wellness programs. The physician's assistant will have the ability to write prescriptions, as needed.
All of the health information of individual employees will remain private and will not be shared with National Life.
National Life joins a growing number of employers around the country in opening a health center in or very near its worksite. The National Business Group on Health found in 2017 that roughly half of its members already had clinics and two-thirds expected to have them by 2020. 1
At National Life Group, our cause is to create positive change in people's everyday lives. From our products and services to all the good we do in our communities, we dedicate ourselves to ensuring a better future – one person at a time. Learn more at NationalLife.com.
Contact: Ross Sneyd, corporate communications, National Life Group, 802.229.3866.
1 National Business Group on Health. https://www.businessgrouphealth.org/topics/health-care-payment-delivery/on-site-health-care-centers-and-convenience-care-clinics/
National Life Group® is a trade name of National Life Insurance Company, founded in Montpelier, Vt., in 1848, Life Insurance Company of the Southwest, Addison, Texas, chartered in 1955, and their affiliates. Each company of National Life Group is solely responsible for its own financial condition and contractual obligations. Life Insurance Company of the Southwest is not an authorized insurer in New York and does not conduct insurance business in New York.
All Cigna® products and services are provided exclusively by or through operating subsidiaries of Cigna Corporation, including Cigna Health and Life Insurance Company and Cigna Onsite Health, LLC. "Cigna" and "Cigna Onsite Health" are registered service marks of Cigna Intellectual Property, Inc.
TC95211(0417)3