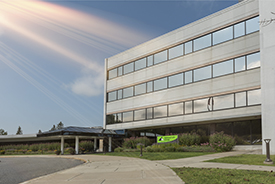 Montpelier, VT (October 28, 2019)
- National Life Group, one of the nation's fastest growing group of life insurance companies, today enhanced its suite of industry-leading indexed universal life (IUL) products.
1
The new FlexLife IUL is designed to meet the needs of consumers in middle America, the most underserved market in the country. And the complementary PeakLife product is designed specifically for larger policies and in many cases the needs of business customers.
"We are reaffirming with both of these products our commitment to bring peace of mind to everyone we touch," said Mehran Assadi, chairman, CEO and president of National Life. "We've long been known for the innovative life insurance that we offer. Our new PeakLife and FlexLife products continue that tradition."
Both FlexLife and PeakLife are indexed universal life insurance and they feature an expanded set of interest crediting options. They also both have enhanced and simplified methods for advisors to illustrate the policies' features and benefits to potential customers, making the communication clearer and easier to understand.
"We believe this is the simplest illustration system in the marketplace," said Achim Schwetlick, National Life's senior vice president for product development and marketing.
Peak Life and FlexLife both also feature enhanced living benefits riders2, which allow customers to access their policy in the event of a qualifying critical illness or injury, terminal or chronic illness. And the new products also include an expanded underwriting program that offers faster issuance of policies up to $2 million.
National Life's nationwide team of financial professionals is available to discuss FlexLife, Peak Life and a full array of products.
National Life is here to bring you peace of mind. We've been keeping our promises since 1848. Believe in tomorrow, do good today. Learn more at NationalLife.com
Contact: Ross Sneyd, corporate communications, National Life Group, 802.229.3866
National Life Group® is a trade name of National Life Insurance Company, founded in Montpelier, Vt., in 1848, Life Insurance Company of the Southwest, Addison, Texas, chartered in 1955, and their affiliates. Each company of National Life Group is solely responsible for its own financial condition and contractual obligations. Life Insurance Company of the Southwest is not an authorized insurer in New York and does not conduct insurance business in New York.
Indexed universal life insurance policies do not directly participate in any stock or equity investments.
This communication is not approved for use in California.
1 Fastest growing for life sales among all reporting life insurance companies from 2013-2018 with individual life sales of at least $50 mm in 2013 – LIMRA Sales Rankings, 2018
2 FlexLife NL and PeakLife NL Indexed Universal Life Insurance, form series 20607/ICC19-20607(0119), and Accelerated Benefits Riders, form series 7490/7493/8591NY/8765/9744/ICC10-884320285/ICC15-20285/20286/ICC15-20286 are underwritten by National Life Insurance Company.
FlexLife and PeakLife Indexed Universal Life Insurance, form series 20608/ICC19/20608(0119), and Accelerated Benefits Riders, form series 8052/8095/8165/8766/ICC10-8844/20287/ICC15-20287/20288/ICC15-20288 are underwritten by Life Insurance Company of the Southwest, Addison, Texas.
This product is a life insurance policy with a rider that accelerates the death benefit on account of chronic illness and is not a health insurance policy providing long-term care insurance subject to the minimum requirements of New York Law, does not qualify for the New York State Long Term Care Partnership program and is not a Medicare supplement policy.
Accelerated Benefit Riders are optional, may be subject to underwriting, exclusions and/or limitations and may not be available in all states. Receipt of accelerated benefits reduces the Death Benefit and cash value (if any) otherwise payable under the policy, may be a taxable event and may affect your eligibility for public assistance programs, such as medical assistance (Medicaid), Aid to Families with Dependent Children, and Supplemental Security Income. Please consult your personal tax advisor to determine the tax status of any benefits paid under this rider and with social service agencies concerning how receipt of such a payment will affect you, your spouse and your family's eligibility for public assistance.
This rider is intended for favorable tax treatment under Section 101(g) of the Internal Revenue Code (26 U.S.C. Sec. 101(g)). Whether such benefits qualify depends on factors such as your life expectancy at the time benefits are accelerated or how the benefits are used. There is no restriction placed on the use of the accelerated benefit. The actual payment you receive will be less than the portion of the death benefit accelerated because the benefits are paid prior to death. Values are based on a current interest rate and mortality rates. There is an initial administrative fee at the time the rider is exercised. We currently limit the amount of death benefit that may be accelerated under all contracts made over the entire lifetime of the insured to $1,500,000 for terminal or chronic illness, and $1,000,000 for crucial illness or injury. We reserve the right to change this limit in the future; however, the limit will never be less than $500,000. Other restrictions, limitations and waiting periods may apply.
TC110798(1019)1