National Life Insurance Company Announces Launch of Private Offering of Surplus Notes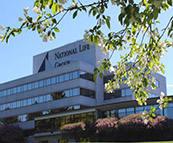 Montpelier, VT - (July 10, 2018) National Life Insurance Company ("National Life") today announced that it has commenced a private offering (the "Surplus Notes Offering") of fixed-to-floating rate surplus notes due 2068 (the "Surplus Notes").
The Surplus Notes will be offered in a private offering exempt from the registration requirements of the United States Securities Act of 1933, as amended (the "Securities Act"). The Surplus Notes will be offered only to qualified institutional buyers pursuant to Rule 144A and to certain persons outside the United States pursuant to Regulation S, each under the Securities Act.
The Surplus Notes have not been registered under the Securities Act and may not be offered or sold within the United States absent registration or an applicable exemption from the registration requirements.
National Life currently expects to commence an exchange offer (the "Exchange Offer") that is expected to settle concurrently with the settlement of the Surplus Notes. National Life expects to offer to exchange any and all of its outstanding 10.50% surplus notes due 2039 (the "2039 Surplus Notes") held by "eligible holders" for newly issued Surplus Notes (the "Additional Notes"). The Additional Notes will have the same interest payment dates and maturity date as the Surplus Notes being offered in the Surplus Notes Offering and will be identified by the same CUSIP number. As a result, to the extent issued in connection with the Exchange Offer, the Additional Notes will constitute a further issuance of, and will form a single series with, the Surplus Notes
This announcement is not an offer to purchase or a solicitation of an offer to sell or purchase with respect to the Surplus Notes or any other securities and shall not constitute an offer, solicitation or sale in any state or jurisdiction in which, or to any person to whom, such an offer, solicitation or sale would be unlawful. The offering of the Surplus Notes is only being made pursuant to the terms of the offering memorandum provided to prospective investors. The Exchange Offer will be conducted pursuant to the terms and conditions set forth in an offering memorandum and the related letter of transmittal and notice of guaranteed delivery relating to the Exchange Offer.
About National Life
National Life Insurance Company (National Life) is a life insurance company founded in 1848 in Montpelier, Vermont and licensed to conduct business in all 50 states and the District of Columbia. National Life operates as a unified organization under the trade name of National Life Group, which includes National Life, Life Insurance Company of the Southwest, and their affiliates. National Life Group is a diversified financial services company and one of the fastest growing life insurers in the United States. Its offerings include traditional whole life, term life, fixed interest universal life, indexed universal life, variable universal life, variable annuities, fixed interest rate annuities and fixed indexed annuities. The company has a combined life insurance in-force of $123.9 billion (before reinsurance ceded) and annuity account value under management of $13.8 billion.
Forward-Looking Statements
This press release may contain "forward-looking statements." These forward-looking statements include, but are not limited to, the completion of the proposed Surplus Notes Offering, satisfaction of the conditions to the Exchange Offer and the completion of the proposed Exchange Offer. Forward-looking statements include, but are not limited to, statements that represent National Life's beliefs concerning future operations, strategies, financial results or other developments, and contain words and phrases such as "may," "expects," "should" or similar expressions. Because these forward-looking statements are based on estimates and assumptions that are subject to significant business, economic and competitive uncertainties, many of which are beyond National Life's control or are subject to change, actual results could be materially different and National Life's results of operations, its financial condition and its liquidity could be adversely affected. Consequently, such forward-looking statements should be regarded solely as National Life's current plans, estimates and beliefs. National Life does not intend, and does not undertake, any obligation to update any forward-looking statements to reflect future events or circumstances after the date of such statements
Contact: Ross Sneyd, corporate communications, National Life Group, 802.229.3866
National Life Group® is a trade name of National Life Insurance Company, founded in Montpelier, Vt., in 1848, Life Insurance Company of the Southwest, Addison, Texas, chartered in 1955, and their affiliates. Each company of National Life Group is solely responsible for its own financial condition and contractual obligations. Life Insurance Company of the Southwest is not an authorized insurer in New York and does not conduct insurance business in New York.