National Life Group Helps Americans Be Financially Independent for Tomorrow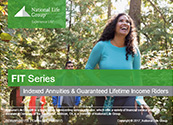 Montpelier, VT - (June 28, 2017) National Life Group member company Life Insurance Company of the Southwest, introduces the Financially Independent for Tomorrow (FIT) series of single premium deferred annuities (SPDA)1 and Guaranteed Lifetime Income Riders to help Americans build, grow and protect their retirement savings.
"With Americans living longer in retirement, providing more innovative savings solutions is paramount," commented Scott Edblom, Vice President of Product Strategy at National Life Group.
The new FIT series of SPDA products offers lifetime income solutions tailored to an individual's savings timeline. Whether they are looking to start building their savings or planning ahead to have a guaranteed2 income stream in retirement, the FIT series delivers options to help meet the varying retirement savings needs of Americans.
One in four Americans fears they will outlive their income, according to a recent IALC Retirement Data Survey.3 Depending on where an individual is in their retirement savings journey, the FIT series has solutions to help individuals overcome those fears and help achieve a Financially Independent Tomorrow.
For financial professionals looking to learn more about these new SPDA products or the complete product portfolio and services offered by the companies of National Life Group, please contact the Sales Desk at 800-906-3310, Option 2. Learn more about National Life Group at NationalLife.com.
Contact: Ross Sneyd, corporate communications, National Life Group, 802.229.3866.
National Life Group® is a trade name of National Life Insurance Company, Montpelier, VT, Life Insurance Company of the Southwest, Addison, TX and their affiliates. Each company of National Life Group is solely responsible for its own financial condition and contractual obligations. Life Insurance Company of the Southwest is not an authorized insurer in New York and does not conduct insurance business in New York.
1. FIT Guaranteed Income, Foundation, and Income Plus fixed indexed annuities, form series 20370(0317)/ICC17-20370(0317), and the Guaranteed Lifetime Income Rider form series 20365(0916)/ICC16-20365(0916) are issued by Life Insurance Company of the Southwest. Indexed annuities do not directly participate in any stock or equity investments. This advertising material is used in multiple states, some with varying form number requirements; therefore, all required variations are provided. Not all policies or riders are available in all states – please check with your agent regarding availability in your state.
2. Guarantees are dependent on the claims paying ability of the issuing.
3. Indexed Annuity Leadership Council, Retirement Fears Survey, 2016
TC96085(0617)