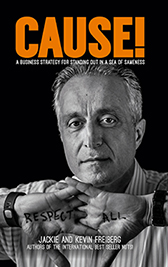 Montpelier, VT (February 16, 2016) - National Life Group is featured in a new book by Jackie and Kevin Freiberg, authors of the international best-seller Nuts, as a company that is so driven by its mission to do good through the products it sells and the causes it supports that it stands "out in a sea of sameness." The book is available from Freibergs.com or Amazon.com

Cause! documents a fresh approach to leadership and collaboration that drives business success in companies as diverse as TOMS Shoes, Lululemon, Virgin, Southwest Airlines and PepsiCo. But the book is centered on Vermont-based financial services firm National Life Group

It takes an in-depth look at how National Life built its culture around a clear purpose – its cause – that engages employees, customers and communities, and has a positive impact on the company's bottom line.

"When people find something noble and heroic to be part of, their lives and work take on greater meaning and significance," said co-author Jackie Freiberg. "They become more impassioned, more willing to think like owners of the business and more committed to the growth of the enterprise. The people of National Life offer a powerful example of how it can be done."

In an effort to break through a period of stagnant growth, CEO Mehran Assadi made creating a cause-driven culture a strategic priority for sparking the competitiveness of the mid-sized life insurance, retirement and investment company. The foundation of the culture is that the life insurance policies, annuities and other financial services that National Life companies sell do good in the lives of their clients. The company in turn is committed to do good throughout the country through charitable donations, volunteer work by employees and other initiatives. The result has been that, while sales were flat in the industry, National Life saw unprecedented growth.

"In an uncertain world our goal is to bring peace of mind to everyone we touch," said Assadi. "Keeping our promises was our cause more than 167 years ago when this company was founded, and it's our cause today. It has given us the motivation and inspiration to change how we work, select who we partner with, and attract the best and brightest talent to our ranks."

LOVE: Living Our Values Every Day

Employees as well as executives believe passionately in the power of the company's products to bring financial security to people from all walks of life – a phenomenon the authors refer to as "democratizing peace of mind" – with LOVE, shorthand for "Living Our Values Every day".

National Life Group has interconnected its purpose-driven mission with its values – Do good. Be good. Make good. – and aligned these guiding principles with everything that everyone does, including its work in the community. The authors refer to this as "democratizing peace of mind" – with LOVE, shorthand for "Living Our Values Every day".

"We believe strongly in making a difference while making a profit," said Assadi. "We want to be judged not by how well we did for ourselves, but how much good we do for our customers, each other, and the world around us."

About the Authors

Jackie and Kevin Freiberg are the authors of six books, including the international bestseller NUTS! Southwest Airlines' Crazy Recipe for Business and Personal Success. The Freiberg's operate the San Diego Consulting Group where they focus on helping leaders create engaging work environments where top talent can do their best work. In addition to their consulting and busy speaking schedule, the two teach part-time at the University of San Diego School of Leadership and Education Sciences. For more information, visit www.freibergs.com.

About National Life

At National Life, our story is simple: for more than 167 years we've worked hard to deliver on our promises to millions of people with our vision of providing peace of mind in times of need. It's our cause, stemming from a deep passion to live our values to do good, be good and make good, every day. Learn more at www.nationallife.com.
---
Contact: Ross Sneyd, corporate communications, National Life Group, 802.229.3866.
National Life Group® is a trade name of National Life Insurance Company, Montpelier, VT – founded in 1848, Life Insurance Company of the Southwest, Addison, TX – chartered in 1955, and their affiliates. Each company of National Life Group is solely responsible for its own financial condition and contractual obligations. Life Insurance Company of the Southwest is not an authorized insurer in New York and does not conduct insurance business in New York. Equity Services, Inc., Member FINRA/SIPC, is a Broker/Dealer and Registered Investment Adviser affiliate of National Life Insurance Company. All other entities are independent of the companies of National Life Group.
TC88751(0216)1