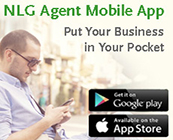 Montpelier, VT (July, 2015) - The Companies of National Life Group are making it easier than ever for their agents to do business with them with the release of the NLG Agent mobile app. The app provides convenient access to case status, commissions and field communications.
"We believe this is a true differentiator in the marketplace," commented David Longfritz, vice president of marketing and business development at National Life Group. "With the app, we are providing our field force with information in the moment, when and where they need it. It's one more way we're making it easier to do business with us."
Since the launch of the mobile app in April, National Life has received positive feedback and strong adoption from their field force. Many agents report that the app helps them save time and allows them to quickly see what business is pending without going to their laptop or computer. And when quarter-end approaches, agents can easily view how close they are to achieving their sales goals.
"We recognize the need to equip our agents with modern tools that support their on-the-go work style," Ryan Matherly, associate vice president of digital strategy, states. "With the app, we help them put their business in their pocket."
The companies of National Life Group offer a broad range of financial products, including life insurance, annuities, investments, and financial solutions in the form of estate, business succession and retirement planning strategies. They are a leading provider of 403(b) and 457(b) tax-deferred retirement plans, primarily in the K-12 school marketplace.
---
To learn more about National Life visit: www.nationallife.com
Contact: Ross Sneyd, corporate communications, National Life Group, 802.229.3866.
National Life Group ® is a trade name of National Life Insurance Company, Montpelier, Vt., Life Insurance Company of the Southwest, Addison, Texas, and their affiliates. Each company of National Life Group is solely responsible for its own financial condition and contractual obligations. Life Insurance Company of the Southwest is not an authorized insurer in New York and does not conduct insurance business in New York. Equity Services, Inc., Member FINRA/SIPC, is a Broker/Dealer and Registered Investment Adviser affiliate of National Life Insurance Company. All other entities are independent of Equity Services, Inc.
TC79600(0614)3