National Life Group Introduces New Customer Mobile App, Enhanced Customer Website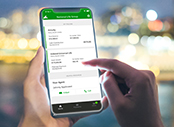 Montpelier, VT - (June 1, 2018) Customers' experience with National Life just got a whole lot better with the company's introduction of a new customer mobile app as well as an enhanced website for policyholders, part of the company's multi-year focus on improving customer experience.
Customers will instantly have access to their National Life policies through the new app and portal, allowing them to securely conduct business when it's most convenient for them and on any device.
"We may be a 170-year-old company, but we're as young and vibrant as the customers we serve," said Mehran Assadi, Chairman, CEO and President of National Life. "We know that 21st century customers expect convenience in the companies they do business with. That's what we've introduced. And we're just getting started."
Customers can use the new technology to easily:
Access their policy details and keep an eye on their balances
Make policy payments and pay off loans
Set up and manage automatic payments
Sign up for account alerts
Access contact information, and more.
Customers can register at NationalLife.com/Register or download the app from the Apple App Store or Google Play.
At National Life Group, our cause is to create positive change in people's everyday lives. From our products and services to all the good we do in our communities, we dedicate ourselves to ensuring a better future – one person at a time. Learn more at NationalLife.com.
Contact: Ross Sneyd, corporate communications, National Life Group, 802.229.3866
National Life Group® is a trade name of National Life Insurance Company, founded in Montpelier, Vt., in 1848, Life Insurance Company of the Southwest, Addison, Texas, chartered in 1955, and their affiliates. Each company of National Life Group is solely responsible for its own financial condition and contractual obligations. Life Insurance Company of the Southwest is not an authorized insurer in New York and does not conduct insurance business in New York.
TC101393(0618)1