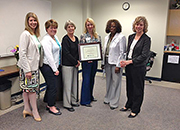 Montpelier, VT (May 7, 2015) - Central Vermont Home Health and Hospice presented its Community Partnership Award to National Life Group at the nonprofit's volunteer appreciation reception recently. The award is in recognition of the long standing support National Life Group and its Foundation have provided to CVHHH.
"National Life Group supports the work of CVHHH in many ways, through volunteer time, by sponsoring our annual fashion show, which is a major fundraiser for our organization, and through grants that help fund our telemonitoring program," said CEO Sandy Rousse at the event.
Accepting the award were Beth Chenette, Director of Digital Marketing and CVHHH volunteer, and Beth Rusnock, President of the National Life Group Foundation.
"We're so proud to accept this award on behalf of the company," said Rusnock, "And we want to thank all of you for the work you do. It's a critical service you provide to our community."
Also present from National Life Group were Myra Brainard, CVHHH volunteer, and Charlotte MacLeay, wife of Chairman of the Board Tom MacLeay, who also received an award for her years of dedicated volunteer service to CVHHH.
The companies of National Life Group offer a broad range of financial products, including life insurance, annuities, and investments, and financial solutions in the form of estate, business succession and retirement planning strategies. They are a leading provider of 403(b) and 457(b) tax-deferred retirement plans, primarily in the K-12 school marketplace.
Contact: Ross Sneyd, corporate communications, National Life Group, 802.229.3866.
---
National Life Group ® is a trade name of National Life Insurance Company, Montpelier, VT, Life Insurance Company of the Southwest (LSW), Addison, TX, and their affiliates. LSW is not an authorized insurer in New York and does not conduct insurance business in New York. Each company of the National Life Group is solely responsible for its own financial condition and contractual obligations.
TC79600(0514)