National Life Group Foundation Does $1.9 Million in Good with Grants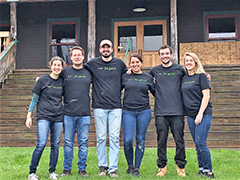 Montpelier, VT - (May 29, 2019) The National Life Group Foundation granted a record $1.9 million this spring to nonprofit organizations and schools, including significant investments to relieve childhood hunger.
The Foundation took up the cause of ending childhood hunger in Vermont last year and is working to fill some of the gaps identified in research it commissioned by the Urban Institute, which produced a report defining the scope of the issue.
Among the highlights of the Foundation's work so far this year are:
The Foundation donated more than $1.4 million in general grants to nonprofits in Vermont and Texas where National Life employees live and work. Forty percent of these donations support hunger relief efforts, including donations to the Vermont Foodbank ($175,000), the North Texas Food Bank ($100,000) and Hunger Free Vermont ($100,000).
More than $270,000 was matched through the company's employee donation campaign, Share the Good.
$85,000 was donated to Vermont communities through the Foundation's Main Street Grants program.
The Foundation also recently released its 2018 Impact Report.
"We're honored to be able to do good through our charitable foundation," said Beth Rusnock, foundation president. "It's inspiring to see the impact nonprofits are making to better our communities."
In addition to grants, National Life encourages its employees to volunteer with nonprofits and schools as well as provides in-kind donations including laptops.
Contact: Ross Sneyd, corporate communications, National Life Group, 802.229.3866.
National Life Group® is a trade name of National Life Insurance Company, Montpelier, Vt., Life Insurance Company of the Southwest, Addison, Texas, and their affiliates. Each company of National Life Group is solely responsible for its own financial condition and contractual obligations. Life Insurance Company of the Southwest is not an authorized insurer in New York and does not conduct insurance business in New York. Equity Services, Inc., Member FINRA/SIPC, is a Broker/Dealer and Registered Investment Adviser affiliate of National Life Insurance Company. All other entities are independent of Equity Services, Inc.
TC95211(0417)3