National Life Group Foundation Awards $25,000 To Vermont Foodbank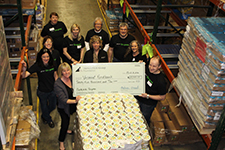 Grant Helps to Support Backpack Program for Hungry Schoolchildren


Montpelier, VT (March 16, 2016) - A $25,000 grant from the National Life Group Foundation to the Vermont Foodbank will help to support the Backpack program.
"Kids can't learn when they're hungry, and that includes when they're hungry on the weekend," said Beth Rusnock, president of the National Life Foundation. "The Vermont Foodbank's Backpack program is an effective and proven way to help keep a family fed when school lunches aren't available."
National Life has supported the Foodbank for many years and has directed its support specifically to the Backpack program in recent years. The Foundation's annual grants have allowed the Foodbank to expand its service to additional schools.
Another way the company supports the Foodbank is as the presenting sponsor of the Harpoon Point to Point Presented by National Life Group, a series of bicycle rides every August that raise money for the Foodbank's programs.
The National Life Group Foundation helps build healthy and vital communities by supporting organizations and initiatives that make a positive difference, primarily in northern Vermont and the Dallas region, where the company has major operations.
The Foundation also made a $15,000 grant to the North Texas Food Bank's version of a backpack program.
At National Life, our story is simple: For more than 167 years we've worked hard to deliver on our promises to millions of people with our vision of providing peace of mind in times of need. It's our cause, stemming from a deep passion to live our values to do good, be good and make good, every day. Learn more at NationalLife.com.
---
For more information, contact Ross Sneyd, corporate communications, National Life Group, 802.249.7506
TC79600(0514)3