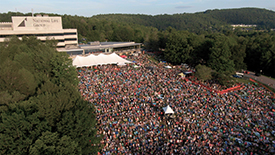 Montpelier, VT (May 20, 2020) - National Life donated $35,000 to the Branches of Hope cancer patient fund this month in lieu of raising money through the 2020 Do Good Fest.
The donation brings to $220,000 the amount of money that has been raised through the efforts of National Life's Do Good Fest over the past seven years.
This year's annual music festival was canceled earlier this year because the Covid-19 pandemic. Over the six years of the event, the Do Good Fest has hosted such national acts as Eric Hutchinson, Guster and Michael Franti, along with a host of other local and regional bands.
"Even though it's not safe to invite 10,000 people onto our back lawn, our commitment to Branches of Hope remains strong," said Mehran Assadi, National Life's Chairman, CEO and President. "Cancer patients will continue to face challenges and this money will help them when they need it."
Branches of Hope is a fund that cancer patients at Central Vermont Medical Center can draw on to help meet their personal expenses while they're undergoing treatment. Do Good Fest, a free music festival, charged for parking and turned all of the proceeds over to Branches of Hope.
Patients have used the fund over the years to pay for everything from home heating oil to gasoline for their car or dental exams, all expenses they were stretched to pay while out of work for treatment.
"This fund serves as an incredible lifeline for our patients and families at a time when they need it most," said Anna Tempesta Noonan, president and chief operating officer of Central Vermont Medical Center. "We appreciate your support over the years and are grateful that you have extended it during this challenging time."
In addition to that donation, the National Life Group Foundation also announced a $15,000 donation to Central Vermont Medical Center's Covid-19 Response Fund.
"We are grateful to have such strong partners in our community," Noonan said. "Your support helps us continue to meet the demands of Covid-19, while promoting the health and wellbeing of everyone who lives and works in Central Vermont."
National Life is here to bring you peace of mind. We've been keeping our promises since 1848. Believe in tomorrow, do good today. Learn more at NationalLife.com
Contact: Ross Sneyd, corporate communications, National Life Group, 802.229.3866.
National Life Group® is a trade name of National Life Insurance Company, founded in Montpelier, Vt., in 1848, Life Insurance Company of the Southwest, Addison, Texas, chartered in 1955, and their affiliates. Each company of National Life Group is solely responsible for its own financial condition and contractual obligations. Life Insurance Company of the Southwest is not an authorized insurer in New York and does not conduct insurance business in New York.
TC112689(0220)P