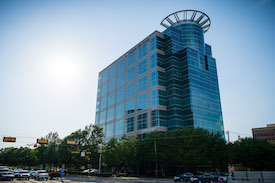 Montpelier, VT (March 26, 2020) - The National Life Group Foundation has approved grants of $100,000 each to community foundations in Vermont and Texas as an initial investment to support Coronavirus relief.
The National Life Foundation continues to work with other charities and will make additional investments to help address the current crisis and the recovery from it.
These first donations will go to VT COVID-19 Response Fund managed by the Vermont Community Foundation and the North Texas Community Response Fund managed by the Community Foundation of Texas. Other organizations are being solicited to donate, as well, and National Life is proud to be among them.
"It's important for us to be a part of the efforts under way to help those affected by COVID-19 in the states where the majority of our employees live and work," said Mehran Assadi, Chairman, CEO and President of National Life Group. "During a crisis like this, it's critical we work together to lift our communities."
Money from the two response funds will be distributed to nonprofits in Vermont and North Texas to help the most vulnerable populations in those areas.
"We are very grateful to be partnering with National Life and many more on the response to COVID-19," said Dan Smith, President and CEO of the Vermont Community Foundation. "The Community Foundation created the Fund to offer individual donors and other grantmakers the opportunity to be part of a coordinated response to the many effects of COVID-19 in Vermont, both in the immediate response and long-term recovery."
"We're mobilizing support from more than fifty funders to get resources where they need to be quickly and efficiently during this unprecedented time," said David Scullin, President and CEO of the Community Foundation of Texas. 'With help from National Life and others, we're determined to make a significant impact."
National Life is here to bring you peace of mind. We've been keeping our promises since 1848. Believe in tomorrow, do good today. Learn more at NationalLife.com
Contact: Ross Sneyd, corporate communications, National Life Group, 802.229.3866.
National Life Group® is a trade name of National Life Insurance Company, founded in Montpelier, Vt., in 1848, Life Insurance Company of the Southwest, Addison, Texas, chartered in 1955, and their affiliates. Each company of National Life Group is solely responsible for its own financial condition and contractual obligations. Life Insurance Company of the Southwest is not an authorized insurer in New York and does not conduct insurance business in New York.
TC112689(0220)P