National Life Agent in Northwest Indiana Recognized With Do Good Award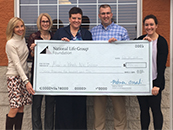 New Program Aims to Reward Nonprofits Supported By Company's Agents
Montpelier, VT - (February 22, 2017) Meals on Wheels of Northwest Indiana was presented a $7,500 award this week by the National Life Group Foundation in honor of the commitment National Life's partner agency in Crown Point, Ind., has made to the nonprofit.
TrueWealth Advising Group was the recipient of National Life's first ever Agent Do Good Award, which will be awarded to two agencies whose commitment to helping nonprofits in their communities stand out.
TrueWealth is closely associated with Meals on Wheels of Northwest Indiana, donating money and untold hours of time to support the worthy cause of feeding neighbors.
"Our company lives its values to Do good. Be good. Make good every day," said National Life President and CEO Mehran Assadi. "We're proud to recognize our agents when they share our commitment to doing good in the communities in which we operate."
Carey Yukich, co-owner of TrueWealth Advising with her husband, John, serves on the Meals on Wheels development committee. John Yukich serves on the "Grasshopper Crew" that manages landscaping at the nonprofit's offices.
All TrueWealth employees and agents are involved with Meals on Wheels in some way and the agency gives its team members paid time to volunteer.
The agency was given the award at a surprise event by National Life Group Foundation President Beth Rusnock, who presented the $7,500 donation that was made to Meals on Wheels in TrueWealth Advising's name.
At National Life, our story is simple: For more than 168 years we've worked hard to deliver on our promises to millions of people with our vision of providing peace of mind in times of need. It's our cause, stemming from a deep passion to live our values to do good, be good and make good, every day. Learn more at NationalLife.com.
Contact: Ross Sneyd, corporate communications, National Life Group, 802.229.3866.
National Life Group® is a trade name of National Life Insurance Company, founded in Montpelier, Vt., in 1848, Life Insurance Company of the Southwest, Addison, Texas, chartered in 1955, and their affiliates. Each company of National Life Group is solely responsible for its own financial condition and contractual obligations. Life Insurance Company of the Southwest is not an authorized insurer in New York and does not conduct insurance business in New York. Carey and John Yukich are Registered Representatives of, and securities are offered solely by Equity Services Inc. (ESI), Member FINRA/SIPC, 2560 Foxfield Rd. Ste. 250, St. Charles, IL 60174. (630) 513-9588, a Broker/Dealer affiliate of National Life Insurance Company. TrueWealth Advising Group and all other entities are independent of ESI and its affiliates.
TC94139(0217)1