National Life Agent in Florida Recognized With Do Good Award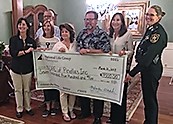 National Life Agent In Florida Recognized With Do Good Award
Montpelier, VT - (March 21, 2017) NOPE of Pinellas County, an organization dedicated to educating youth about the dangers of drug use, was presented a $7,500 donation by the National Life Group Foundation this week in honor of the commitment National Life Group's partner agency in Clearwater, Fla., has made to the nonprofit.
Mark Serra, owner of Planned Financial Services Corp., received one of National Life's inaugural Agent Do Good Awards, awarded to two agencies whose commitment to helping nonprofits in their communities stand out.
Serra and his wife, Laurie, were founding members of NOPE of Pinellas in 2009 after the death of their oldest son, Matthew, to a prescription drug overdose. Serra's commitment to NOPE, which stands for Narcotics Overdose Prevention & Education, has helped educate more than 100,000 young people to the dangers of drugs through school assemblies, an annual candlelight vigil and scholarships.
"Our company lives its values to Do good. Be good. Make good every day," said National Life President and CEO Mehran Assadi. "We're proud to recognize our agents when they share our commitment to doing good in the communities in which we operate. We're humbled by Mark and Laurie's determination to take a tragic situation and try to prevent it from happening to other families."
In addition to its work with students, NOPE of Pinellas also works with parent groups, community service organizations, churches, synagogues and hospitals.
The agency was given the award at a surprise event during a meeting of the NOPE of Pinellas County task force, and a $7,500 check was presented to NOPE in Planned Financial's name.
At National Life, our story is simple: For more than 168 years we've worked hard to deliver on our promises to millions of people with our vision of providing peace of mind in times of need. It's our cause, stemming from a deep passion to live our values to do good, be good and make good, every day. Learn more at NationalLife.com.
Contact: Ross Sneyd, corporate communications, National Life Group, 802.229.3866.
National Life Group® is a trade name of National Life Insurance Company, founded in Montpelier, Vt., in 1848, Life Insurance Company of the Southwest, Addison, Texas, chartered in 1955, and their affiliates. Each company of National Life Group is solely responsible for its own financial condition and contractual obligations. Life Insurance Company of the Southwest is not an authorized insurer in New York and does not conduct insurance business in New York.
TC94530(0317)1