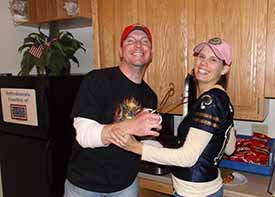 Montpelier, VT (May 22, 2020) - A nonprofit dedicated to supporting service members and their families was presented a $2,500 donation to honor the work that an agent from National Life Group's partner agency, The Impact Partnership, has made to the organization.
The USO of Missouri strengthens America's military service members by keeping them connected to family, home and country, throughout their service to the nation. National Life Group made the contribution in the name of David Malone, an agent with The Impact Partnership, one of National Life's affiliates.
From among 80 nominees, Malone was chosen as one of the winners of the company's annual Agent Do Good Awards, which are made to National Life agents whose commitment to helping nonprofits in their communities stand out.
Malone was recognized for his commitment to advocating on behalf of and supporting the USO facilities at St. Louis International Airport, Fort Leonard Wood, and multi-state mobile operations via multiple mobile canteens and service vehicles. He is also working to prop up and launch a brand new airport facility at Kansas City International for all troops traveling, but especially for those associated with Fort Riley, Kansas, Whiteman AFB-MO (home of the B2 Stealth Bomber), and Fort Leonard Wood-MO.
"Our company lives its values to Do good. Be good. Make good every day," said National Life Chairman, President and CEO Mehran Assadi. "We're proud to recognize our agents when they share our commitment to doing good in the communities in which we operate. We're humbled by David's determination to recognize and support our troops."
Malone was recently given the award at a surprise event via Zoom.
National Life is here to bring you peace of mind. We've been keeping our promises since 1848. Believe in tomorrow, do good today. Learn more at NationalLife.com
Contact: Ross Sneyd, corporate communications, National Life Group, 802.229.3866.
National Life Group® is a trade name of National Life Insurance Company, founded in Montpelier, Vt., in 1848, Life Insurance Company of the Southwest, Addison, Texas, chartered in 1955, and their affiliates. Each company of National Life Group is solely responsible for its own financial condition and contractual obligations. Life Insurance Company of the Southwest is not an authorized insurer in New York and does not conduct insurance business in New York.
TC114705(0520)1