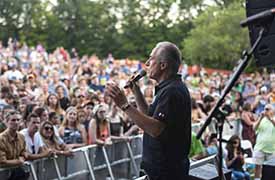 Montpelier, VT (April 7, 2020) - Mehran Assadi, Chairman, CEO and President of National Life Group has been recognized as a "Transformative CEO for Customer Experience" by The CEO Forum Group, a media company that highlights the innovative work of chief executives. Other leaders featured represent organizations including Marriott International, UNICEF, Deloitte Consulting, and Rolls-Royce Motorcars NA.
Robert Reiss, CEO of The CEO Forum Group, said Assadi was selected as the lead Transformative CEO for the insurance industry for reinventing the 172-year-old company to become mission-driven, focusing on middle America.
"Mr. Assadi was given this award because of his servant leadership philosophy," Reiss said. "It transcends from the fabric of National Life's culture to the customer experience, to policyholders and to those who sell National Life products. This has helped National Life become one of the fastest growing insurance companies in America."1
"In each and every touchpoint, we encourage our team members to think about the experience they would want," explained Assadi. "Having the sense that you are walking in our clients' shoes, considering how you would want to be treated, is absolutely critical to our success."
For the past 10 years National Life has recorded record growth in sales and earnings and is one of the fastest growing life insurance companies in the country.1 Since the founding of National Life Insurance Company in 1848, it holds true to its values to Do good. Be good. Make good.
CEO Forum rolled out the "Transformative CEO" in a series of audio interviews and in its magazine. 2 Highlights from the CEOs profiled also provided inspiration during the COVID-19 pandemic in a recent Forbes article.
National Life is here to bring you peace of mind. We've been keeping our promises since 1848. Believe in tomorrow, do good today. Learn more at NationalLife.com
Contact: Ross Sneyd, corporate communications, National Life Group, 802.229.3866.
National Life Group® is a trade name of National Life Insurance Company, founded in Montpelier, Vt., in 1848, Life Insurance Company of the Southwest, Addison, Texas, chartered in 1955, and their affiliates. Each company of National Life Group is solely responsible for its own financial condition and contractual obligations. Life Insurance Company of the Southwest is not an authorized insurer in New York and does not conduct insurance business in New York.
1 Among all reporting life insurance companies from 2014 – 2019 with individual life sales of at least $50 mm in 2014 – LIMRA Sales Reporting, 2019
TC11380(0420)1