Maryland High School Teacher Named National Life Group's 'Lifechanger of the Year' Grand Prize Winner for the 2018-2019 School Year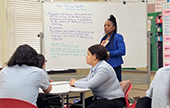 Montpelier, VT - (May 6, 2019) Keishia Thorpe, an English teacher and track and field coach at International High School Langley Park in Bladensburg, MD, has been selected as the Grand Prize Winner for the 2018-2019 national LifeChanger of the Year award.
Thorpe was recognized for inspiring her students– all of whom are immigrants – to follow her example and seek out opportunities for higher education. In her 14 years of teaching, she has dedicated herself to mentoring college applicants and student-athletes, as well as expanding access to subsidized testing, financial aid, and full scholarships.
Raised in Jamaica by her grandmother, Thorpe first discovered a love for track and field in high school, when former Olympian Vilma Charlton bought Thorpe her first pair of shoes, bag, and uniform. Her work ethic and dedication were driven by her dream of using education as a pathway out of poverty and to care for her ailing grandmother. After excelling athletically, both Thorpe and her twin sister Tresha Borris earned track and field scholarships to attend university in the United States, with Thorpe matriculating at Howard University in Washington, DC.
"Since track and field gave her the hope of college when she was in high school and had no clue what was going to happen next, I think she feels obligated to pay it forward," Borris explained. "Through a track scholarship, she was able to complete college and had the opportunity to help her family. Today, she wants to provide the opportunity for other student-athletes to change their lives in the same way that higher education was able to change hers – not just for the athletes she coaches, but all athletes in her school district and community."
Thorpe and her sister also founded U.S. Elite Track and Field, a non-profit that provides student-athletes an opportunity to use their talents to access scholarships and earn a college diploma debt-free. Many of the students who enroll in the organization's Liaison International Scholarship Program come from disadvantaged backgrounds and are first-generation high school or college students. Each year, U.S. Elite Track and Field hosts a Scholarship and Athletic Convention, bringing together college coaches, admissions, and compliance teams to educate student-athletes on recruitment eligibility and ensure they transition to university successfully. The event culminates in a college fair, where student-athletes can interact with college coaches and admissions representatives, often being recruited on the spot.
As the initiative grew, it became international in scope. Thorpe realized that many students, especially from her home country of Jamaica and other Caribbean nations, were interested but lacked knowledge on the process of applying internationally and complying with immigration law. With the increased interest, Thorpe hosted successful conventions in Jamaica and the Bahamas.
"Keishia is a living embodiment of the American Dream," said Mehran Assadi, CEO and President of National Life Group. "Her powerful story and servant leadership is a lesson to us all – of the extraordinary power of education, the importance of investing in the next generation, and what it means to be a LifeChanger."
About LifeChanger of the Year
LifeChanger of the Year is an annual program sponsored by the National Life Group Foundation that recognizes and rewards outstanding K-12 educators and school district employees who have demonstrated a proven ability to make a beneficial difference in the lives of students. To be considered for a LifeChanger of the Year award, nominees must:
Make a positive impact in the lives of students

Enhance their school or district's atmosphere, culture and pride

Demonstrate exemplary leadership at the school and/or district level

Possess a proven record of professional excellence

Show commitment to building a nurturing environment that supports learning

Adhere to the highest moral and ethical standards
As the National Grand Prize Winner, Thorpe—who was nominated by her sister, Tresha Borris—receives a $10,000 cash award, which is split between a $5,000 individual award and a matching $5,000 donation to International High School Langley Park. Thorpe was selected for the Grand Prize out of 830 teachers, administrators and school district employees from all 50 states and the District of Columbia.
In addition to Thorpe, four other educators from across the country were recognized as 2018-19 LifeChanger of the Year Grand Prize Finalists. Each Finalist received a $2,500 cash reward with a matching $2,500 donation made to their schools. All Finalists were recognized at a national awards ceremony on Sunday, May 5th, 2019 in Hawaii.
Samuel King – Head Custodian
Bell Glade Elementary School
Belle Glade, FL
Lori Kwee – Fourth Grade Teacher
Ala Wai Elementary School
Honolulu, HI
Jennifer Lemoine – Gifted & Talented Specialist
Red Hawk Ridge Elementary School
Aurora, CO
Tarence Wheeler – Director of Corporate Community Affairs
River Rouge schools
River Rouge, MI
Twelve additional cash awards were given out to LifeChanger of the Year winners from California, Colorado, Georgia, Kansas, Missouri, New Jersey, North Carolina, Oregon, South Carolina, Texas, and Wisconsin.
For a complete listing of this year's LifeChanger of the Year winners, visit:
https://www.lifechangeroftheyear.com/201819-winners
To learn more about Keishia Thorpe, visit: https://nationallife.wistia.com/medias/lldmll0erj
National Life Group® is a trade name of National Life Insurance Company, Montpelier, VT, Life Insurance Company of the Southwest (LSW), Addison, TX and their affiliates. Each company of National Life Group is solely responsible for its own financial condition and contractual obligations. LSW is not an authorized insurer in New York and does not conduct insurance business in New York.
In Texas, due to regulatory concerns, National Life Group will donate similar items to the winner or a nonprofit group of NLGroup's choice that supports the winner's school.
TC07752(0519)1