Mark Benjamin Joins National Life as SVP and Chief People Officer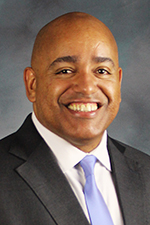 Montpelier, VT - (November 28, 2018) Mark Benjamin, a human resources professional with more than two decades of experience, has joined National Life as Senior Vice President and Chief People Officer.
He oversees all of National Life's recruiting, training, performance management and compensation programs.
"Mark has a long and proven record of leading all elements of human resources – from talent acquisition to compensation to engagement and culture," said Mehran Assadi, National Life's Chairman, CEO and President. "He also has deep experience in business. His record shows that he can roll up his sleeves and tackle critical business and organizational challenges."
Benjamin joined National Life from American Express, where he was most recently Chief Human Resources Officer for the India Market. He also held several other senior human resources positions during his time at American Express.
Previously, he worked in human resources at AIG, Bank of America, Citigroup, Credit Suisse, Donaldson, Lufkin & Jenrette, and State Farm.
National Life is here to bring you peace of mind. We've been keeping our promises since 1848. Believe in tomorrow, do good today. Learn more at NationalLife.com
Contact: Ross Sneyd, corporate communications, National Life Group, 802.229.3866.
National Life Group® is a trade name of National Life Insurance Company, founded in Montpelier, Vt., in 1848, Life Insurance Company of the Southwest, Addison, Texas, chartered in 1955, and their affiliates. Each company of National Life Group is solely responsible for its own financial condition and contractual obligations. Life Insurance Company of the Southwest is not an authorized insurer in New York and does not conduct insurance business in New York.
TC95211(0417)3