Guster to Headline Fourth Annual Do Good Fest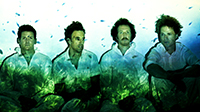 Free Music Festival To Benefit Cancer Patient Fund
Montpelier, VT - (May 22, 2017) Guster, an alternative rock band based in New England, will headline the fourth annual Do Good Fest on July 15, National Life Group and The Point radio network announced Monday.
Guster, known for such hits as "Satellite" and "Amsterdam," has been on a 25th anniversary tour over the past year, which concludes later in the summer.
"Guster is a great fit for the Do Good Fest," said Mehran Assadi, National Life's chairman, CEO and president. "Not only has the band created great music for many years, the members are also active in their community, just as we are."
The Do Good Fest Presented by The Point is a free day of music, food, family activities and fireworks. National Life underwrites the cost of the day and all the proceeds from parking fees of $20 per vehicle are donated to the Branches of Hope cancer patient fund at Central Vermont Medical Center.
The festival will held on the natural amphitheater of National Life's Montpelier headquarters with spectacular views of Camel's Hump. Gates open at 2:30 p.m. and the music begins at 4. There will again be food trucks around the region, a beer and wine tent, a Nonprofit Village and family activities. Guster's show will be capped by a fireworks display.
In addition to Guster, Burlington-based Kat Wright will also perform, as will Dwight and Nicole, who are also based in Burlington.
The Do Good Fest is sponsored by National Life, The Point, Seven Days, Montpelier Alive, Harpoon Brewery and the National Life Group Foundation. Over the first three years of the Do Good Fest, $56,000 has been raised for Branches of Hope.
"The music, food and fun are all great, but the real purpose behind the Do Good Fest is to raise money for cancer patients who are struggling to pay their bills during treatment," Assadi said.
At National Life, our story is simple: For more than 167 years we've worked hard to deliver on our promises to millions of people with our vision of providing peace of mind in times of need. It's our cause, stemming from a deep passion to live our values to do good, be good and make good, every day. Learn more at NationalLife.com.
Contact: Ross Sneyd, corporate communications, National Life Group, 802.229.3866.
National Life Group® is a trade name of National Life Insurance Company, Montpelier, Vt., Life Insurance Company of the Southwest, Addison, Texas, and their affiliates. Each company of National Life Group is solely responsible for its own financial condition and contractual obligations. Life Insurance Company of the Southwest is not an authorized insurer in New York and does not conduct insurance business in New York. Equity Services, Inc., Member FINRA/SIPC, is a Broker/Dealer and Registered Investment Adviser affiliate of National Life Insurance Company. All other entities are independent of Equity Services, Inc.
TC795211(017)3