Garden City Public Schools Educator Selected as LifeChanger of the Year Award Recipient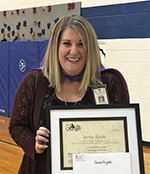 Garden City, KS - (November 5, 2018) Florence Wilson Elementary School psychologist Jenna Rycek was named the 2018-19 'Spotlight Award' recipient from National Life Group's LifeChanger of the Year program during a surprise ceremony in her school gymnasium. The ceremony was attended by roughly 400 attendees, including Garden City mayor Roy Cessna.
Rycek has been recognized for going above and beyond the typical scope of a school psychologist's involvement with students. She observes her students in the classroom to get an idea of how they are coping in different subjects, and she works with parents to ensure her school can meet their children's needs.
Last year, Rycek helped with a special Christmas celebration for the residents of a local short-term foster home. Each child received their own duffle bag with their name monogrammed on it, as well as clothes, shoes and something from their wish list. Rycek made sugar cookies and frosting along with sprinkles for the students to decorate and enjoy during the Christmas break.
"Over the past 25 years, I've worked with numerous school psychologists, but have never had one that has invested as much time and energy into helping students as Jenna Rycek. She definitely makes a difference in students' lives on a daily basis," said Skyla Wehkamp, Rycek's principal and nominator.
As the Spotlight Award winner, Rycek received a $5,000 prize, which was awarded as a $2,500 individual prize and a $2,500 donation to Florence Wilson Elementary School. The Spotlight Award is the first of 17 cash prizes to be awarded during the 2018-19 school year by LifeChanger of the Year. The award was presented to Rycek by Wehkamp, as well as LifeChanger of the Year representatives Maria McLendon and Marco Campa.
"The Spotlight Award is an opportunity for us to focus attention each year on a different role or discipline with K-12 education. This year, we gave special recognition to nominees who are making a difference in the lives of students through their counseling position within their school or district," said McLendon. "We are thrilled to recognize and reward Jenna with this year's Spotlight Award cash prize. She has shown a relentless commitment to the students in this school and to her community, and she has a big heart to match her work ethic."
For more information, please visit Ms. Rycek's LifeChanger of the Year nominee profile.
About LifeChanger of the Year
Sponsored by the National Life Group Foundation, LifeChanger of the Year recognizes and rewards the very best K-12 educators and school district employees across the United States who are making a difference in the lives of students by exemplifying excellence, positive influence and leadership.
LifeChanger of the Year nominees must be full-time educators, teachers, principals, or any member of the school district's staff who makes a positive difference in the lives of students. To be considered for an award, nominees must:
Make a positive impact in the lives of students

Enhance their school or district's atmosphere, culture and pride

Demonstrate exemplary leadership at the school and/or district level

Possess a proven record of professional excellence

Show commitment to building a nurturing environment that supports learning

Adhere to the highest moral and ethical standards
Nominations for the 2018-2019 school year are being accepted until December 31, 2018. All nominees submitted prior to the deadline are eligible to be selected for the national $10,000 Grand Prize and additional cash awards. These awards will be announced in early 2019. To nominate a K-12 educator or school employee, please visit www.lifechangeroftheyear.com.
TC95211(0417)3