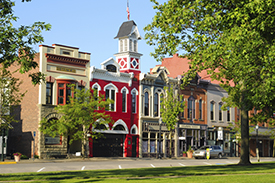 Montpelier, VT (April 1, 2019) - Eight Main Street Grants will be awarded to six Vermont communities from the National Life Group Foundation. This is the second year of the Main Street Grants program that was created to help build community throughout Vermont where National Life is headquartered.
The grants include funding for repositioning a community to take advantage of its emerging outdoor recreational opportunities to upgrading heating and lighting systems in an arts center to a mural designed to enhance a downtown streetscape.
In all, $85,300 in grants will be awarded to Barre, Brandon, Newport, Poultney, Randolph, and Rutland.
"We're delighted to be able to support Vermont communities, especially those that are working hard to reinvent themselves," said Beth Rusnock, president of the National Life Foundation. "The projects we'll help fund will drive the local economy, support local culture and help to foster the civic pride that exists here."
National Life worked with leaders from the state of Vermont, Preservation Trust of Vermont, the Vermont Council on Rural Development, and the Vermont Community Foundation to review the eleven applications received.
The grant winners are:
Barre: Creating of mural for the Summer Street wall in Barre City. $500.
Brandon: Initiation of phase one of the Brandon Greenways known as "The Hub," a 9 acre piece of land that sits in the middle of downtown and includes the river scape. Upon transforming this property into a river walk/trail system, added trails and walking paths will radiate out to other parts of the community. $8,000.
Newport: Will support a destination development initiative. With a focus on Newport's emerging outdoor recreation economy, this initiative will assist in drawing new markets into the designated downtown and supporting businesses within the City of Newport to connect and cater to these new market groups. $20,000.
Poultney: Provide the final design plan for a public pocket park named the Slate Quarry Park. $5,000.
Poultney: Install HVAC and lighting systems that will make Stone Valley Arts Center a year-round cultural facility. $14,800.
Randolph: The grant will be used to integrate a new downtown public space into ongoing downtown activities, and engage in a three-way collaboration to create a series of outdoor downtown events. $12,000.
Randolph: Significantly lower ticket prices for programs at the Chandler Center for the Arts to draw more people to Randolph's Main Street annually. $10,000.
Rutland: Conduct a market analysis and strategic plan for the Special Benefits District of Downtown Rutland. $15,000.
At National Life, our story is simple: For 170 years we've worked hard to deliver on our promises to millions of people with our vision of providing peace of mind in times of need. It's our cause, stemming from a deep passion to live our values to do good, be good and make good, every day. Learn more at NationalLife.com.
Contact: Ross Sneyd, corporate communications, National Life Group, 802.229.3866
National Life Group® is a trade name of National Life Insurance Company, founded in Montpelier, Vt., in 1848, Life Insurance Company of the Southwest, Addison, Texas, chartered in 1955, and their affiliates. Each company of National Life Group is solely responsible for its own financial condition and contractual obligations. Life Insurance Company of the Southwest is not an authorized insurer in New York and does not conduct insurance business in New York.
TC795211(0517)3