Do Good Fest Raises $36,000 for Branches of Hope Cancer Patient Fund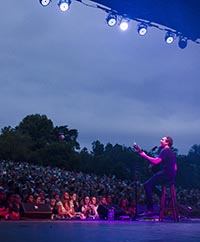 Montpelier, VT - (July 16, 2018) National Life Group's annual Do Good Fest over the weekend raised nearly $36,000 for Branches of Hope, bringing to almost $135,000 the amount raised for the cancer patient fund over the past five years.
Thousands flooded onto the hill at National Life to dance to the music of Phillip Phillips, Serena Ryder, SYML, Caitlin Canty and the Chad Hollister Band, an afternoon and evening that was capped by a spectacular fireworks show by Northstar Fireworks.
"We are humbled by the generosity of all the people who for five years have turned out to support their neighbors who are undergoing cancer treatment," said Mehran Assadi, National Life's Chairman, CEO and President. "Our cause to Do Good in the communities where we work and live is clearly shared by a lot of Vermonters."
The Do Good Fest Presented by the Point is underwritten by National Life and all of the parking proceeds, as well as sales of festival merchandise, are donated to Branches of Hope. It is a fund that cancer patients can tap when they're undergoing treatment and need help paying for basic expenses, including transportation, lodging and even home heating oil.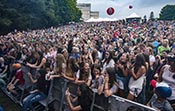 In addition to music, food and fireworks, nearly three dozen nonprofits were represented in the festival's Nonprofit Village. They were given the opportunity to create interactive activities and displays to help tell the story
At National Life Group, our cause is to create positive change in people's everyday lives. From our products and services to all the good we do in our communities, we dedicate ourselves to ensuring a better future – one person at a time.
Learn more at NationalLife.com.
Contact: Ross Sneyd, corporate communications, National Life Group, 802.229.3866
National Life Group® is a trade name of National Life Insurance Company, Montpelier, Vt., Life Insurance Company of the Southwest, Addison, Texas, and their affiliates. Each company of National Life Group is solely responsible for its own financial condition and contractual obligations. Life Insurance Company of the Southwest is not an authorized insurer in New York and does not conduct insurance business in New York. Equity Services, Inc., Member FINRA/SIPC, is a Broker/Dealer and Registered Investment Adviser affiliate of National Life Insurance Company. All other entities are independent of Equity Services, Inc.
TC95211(0417)3