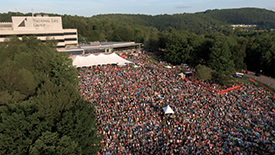 Montpelier, VT (March 27, 2020) - Do Good Fest has been canceled for this summer amid the uncertainty created by the Coronavirus crisis but will return next year.
The annual benefit music festival was scheduled for July 18. National Life concluded that the event should be suspended this year to ensure public health and safety.
"We certainly hope that life may be returning to something closer to normal by July 18th," said Mehran Assadi, Chairman, CEO & President of National Life. "But there is so much uncertainty and the focus now needs to be on public health and safety."
National Life remains committed to Branches of Hope cancer patient fund at Central Vermont Medical Center, the cause that benefited from Do Good Fest. The company has committed to making a donation in coming weeks to Branches of Hope, which helps cancer patients with basic expenses while they're undergoing treatment.
"Our Central Vermont Medical Center is deeply grateful to the National Life Group and all the sponsors that have supported this event over the years," said Anna Noonan, President of CVMC. "I know this decision was difficult and I support it 100 percent. The safety of our community during this pandemic must come first. We look forward to celebrating with another amazing Do Good Fest when this is all over."
More than $185,000 has been raised for Branches of Hope over the six years of the festival, including $50,000 last year when more than 10,000 people crowded onto National Life's lawn.
National Life's Do Good Fest is presented in partnership with The Point radio network, Seven Days, Harpoon Brewery and Montpelier Alive.
National Life is here to bring you peace of mind. We've been keeping our promises since 1848. Believe in tomorrow, do good today. Learn more at NationalLife.com
Contact: Ross Sneyd, corporate communications, National Life Group, 802.229.3866.
National Life Group® is a trade name of National Life Insurance Company, founded in Montpelier, Vt., in 1848, Life Insurance Company of the Southwest, Addison, Texas, chartered in 1955, and their affiliates. Each company of National Life Group is solely responsible for its own financial condition and contractual obligations. Life Insurance Company of the Southwest is not an authorized insurer in New York and does not conduct insurance business in New York.
TC112689(0220)P