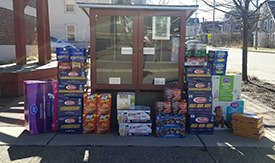 Montpelier, VT (April 6, 2020) - National Life Group partnered with the City of Montpelier on Monday to install a Do Good Cupboard in front of the Montpelier Senior Activity Center on Barre Street.
The Cupboard, which was built with materials donated by Allen Lumber and donated time from Joe Blais, an employee at National Life, is intended to offer basic items to those in the community. It doesn't replace food shelves but can help those who might need items like nonperishable food or toiletries on short notice.
"The Do Good Cupboard is intended to extend a helping hand to anyone who needs one," said Beth Rusnock, president of the National Life Group Foundation. "National Life will stock the Cupboard with basics so our neighbors can take what they need and leave what they can. Our employee volunteers will also monitor the Cupboard to ensure expiration dates do not go unnoticed."
The cupboard is modeled after one in Lewes, Delaware. St. Peter's Feed the Children Heart and Soul Ministry donated the blueprints for National Life to create its own resource.
National Life is here to bring you peace of mind. We've been keeping our promises since 1848. Believe in tomorrow, do good today. Learn more at NationalLife.com
Contact: Ross Sneyd, corporate communications, National Life Group, 802.229.3866.
National Life Group® is a trade name of National Life Insurance Company, founded in Montpelier, Vt., in 1848, Life Insurance Company of the Southwest, Addison, Texas, chartered in 1955, and their affiliates. Each company of National Life Group is solely responsible for its own financial condition and contractual obligations. Life Insurance Company of the Southwest is not an authorized insurer in New York and does not conduct insurance business in New York.
TC112689(0220)P