Darlene Flagg Appointed VP To Head Industry-Leading Retirement Business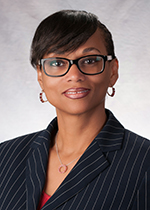 Montpelier, VT - (August 12, 2020) Darlene Flagg, a recognized national leader in the financial services industry, was promoted to vice president to lead National Life Group's educator retirement business.
Flagg will be in charge of expanding National Life's longstanding commitment to serving educators through the products they offer in 403(b), 457(b) and 3121 plans, which help ensure employees in schools and community colleges are able to retire with the dignity they deserve.
National Life remains dedicated to this market despite challenges that have emerged as a result of the coronavirus pandemic.
"National Life is a Main Street company that is proud to serve schools and school employees and to help bring them peace of mind," said Matthew Frazee, National Life Senior Vice President. "In Darlene, we have an advocate and leader who wakes up every day thinking solely about how to better meet the needs of educators and their families."
Flagg has been a leader in National Life's retirement business for the past five years as an Associate Vice President. Before that, she was a Vice President of Institutional Marketing at AIG.
Flagg is active in the industry and recognized as a leader. She serves on the national board of Women in Financial Services, where she partners to attract, educate and develop women in the field. She is also president-elect of the National Tax-Deferred Savings Association, the only independent nonprofit dedicated to the 403(b) and 457(b) markets. And she is also a Senatorial Member of the American Retirement Association.
National Life is the No. 1 provider of fixed indexed annuities in employer plans* and is the longest standing issuer of them. **
National Life is here to bring you peace of mind. We've been keeping our promises since 1848. Believe in tomorrow, do good today. Learn more at NationalLife.com
Contact: Ross Sneyd, corporate communications, National Life Group, 802.229.3866.
National Life Group® is a trade name of National Life Insurance Company, founded in Montpelier, Vt., in 1848, Life Insurance Company of the Southwest, Addison, Texas, chartered in 1955, and their affiliates. Each company of National Life Group is solely responsible for its own financial condition and contractual obligations. Life Insurance Company of the Southwest is not an authorized insurer in New York and does not conduct insurance business in New York.
* LIMRA US Individual Annuity Industry Sales Report, 4Q2019
** Insurance News Net, FIAs at Age 20, 2015
TC116156(0820)1