Carol A. Carlson Elected To National Life Board Of Directors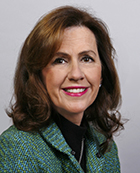 Montpelier, VT - (August 15, 2016) Carol A. Carlson, who specialized in auditing and accounting in the insurance industry during her career in accounting, was elected to the National Life board of directors at its August meeting.
Carlson recently retired as a partner of the accounting firm of Ernst & Young, LLP, after 36 years. Her clients included many of the largest life and annuity writers in the world, as well as many of the largest global property and casualty insurers.
"Carol brings a wealth of expertise and real-world know-how to our board," said Tom MacLeay, National Life board chairman.
During her time at Ernst & Young, Carlson advised insurers on their strategic transactions, including acquisitions, dispositions and initial public offerings. Additionally, she advised companies on the impacts of new and developing accounting and financial reporting guidance.
She serves on several committees of The Boston Club, including the Not-for-Profit Board Committee. She is also a past member of Ernst & Young's Partner Advisory Council and is a frequent speaker at insurance industry technical conferences.
Carlson has a special interest in gender-equity and inclusiveness and led Ernst & Young's efforts on those initiatives for a number of years.
About National Life
At National Life, our story is simple: For more than 167 years we've worked hard to deliver on our promises to millions of people with our vision of providing peace of mind in times of need. It's our cause, stemming from a deep passion to live our values to do good, be good and make good, every day. Learn more at National Life.
Contact: Ross Sneyd, corporate communications, National Life Group, 802.229.3866.
National Life Group® is a trade name of National Life Insurance Company, Montpelier, Vt., founded in 1848, Life Insurance Company of the Southwest, Addison, Texas, chartered in 1955, and their affiliates. Each company of National Life Group is solely responsible for its own financial condition and contractual obligations. Life Insurance Company of the Southwest is not an authorized insurer in New York and does not conduct insurance business in New York.
TC91490(0816)1