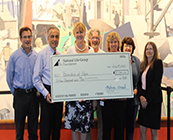 Music Festival Raises Nearly $26,000 Over Past Two Years
Montpelier, VT (July 29, 2015) - The Branches of Hope cancer patient fund at Central Vermont Medical Center was formally presented $15,000 on Wednesday from the Do Good Fest and the National Life Group Foundation.
The money represents proceeds from this year's Do Good Fest music festival, as well as a matching grant by the National Life Foundation.
"The Do Good Fest is just one of the many ways National Life tries to make our community a better place to live," said National Life President and CEO Mehran Assadi. We have a long association with Central Vermont Medical Center. We're especially proud that we're able to help patients directly through the Do Good Fest.
"The National Life Group Foundation decided to step in when it learned that Branches of Hope was surviving on the proceeds of bake sales, "Foundation President Beth Rusnock said. "We came to understand the vitally important services that Branches of Hope provides and knew we wanted to help patients during a difficult time of their lives," she said.
With this year's donation, National Life Group's contributions to Branches of Hope totaled nearly $26,000.
The Do Good Fest, was presented by National Life Group and The Point Radio Network, and was co-sponsored by Seven Days, Harpoon Brewery, Montpelier Alive and the National Life Group Foundation.
For more details and photos, visit the Do Good Fest website.
The companies of National Life Group offer a broad range of financial products, including life insurance, annuities, and investments, and financial solutions in the form of estate, business succession and retirement planning strategies. They are a leading provider of 403(b) and 457(b) tax-deferred retirement plans, primarily in the K-12 school marketplace.
---
For more information, contact Ross Sneyd, corporate communications, National Life Group, 802.249.7506
National Life Group® is a trade name of National Life Insurance Company, Montpelier, Vt., Life Insurance Company of the Southwest, Addison, Texas, and their affiliates. Each company of National Life Group is solely responsible for its own financial condition and contractual obligations. Life Insurance Company of the Southwest is not an authorized insurer in New York and does not conduct insurance business in New York. Equity Services, Inc., Member FINRA/SIPC, is a Broker/Dealer and Registered Investment Adviser affiliate of National Life Insurance Company. All other entities are independent of Equity Services, Inc.
TC79600(0514)3