Ata Azarshahi Appointed Head of Equity Services, Inc.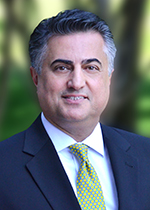 Montpelier, VT - (June 12, 2020) Ata Azarshahi has been appointed President and CEO of Equity Services, Inc. (ESI), National Life's broker dealer, replacing Lance Reihl, who plans to retire later this summer.
"Ata is a seasoned professional with a proven track record in distribution and registered products—a veteran of our industry with over 30 years of experience," said Mehran Assadi, Chairman, CEO and President of National Life, who announced the transition.
Azarshahi has been with National Life for more than seven years. He is currently Senior Vice President for life and annuity solutions, a position he will continue to hold.
Prior to joining National Life, he was CEO of ING Variable Annuities Europe structure in The Netherlands, where he led the expansion of ING's insurance footprint in continental Europe and later in Eurasia from 2007 until April 2013. Azarshahi has previously held senior roles at Pacific Life, MetLife Investors and Transamerica.
Assadi also praised Reihl for his years of dedication both to National Life and to the financial services industry.
"Over the 12 years Lance has led ESI, he has stabilized and reinvented the company, turning it into a top-notch broker dealer. His legacy will live on for a long time."
ESI is a full service broker dealer and registered investment adviser offering multiple affiliation options, an innovative technology platform, and a wide range of resources to help Registered Representatives and Investment Adviser Representatives provide impactful client solutions.
National Life is here to bring you peace of mind. We've been keeping our promises since 1848. Believe in tomorrow, do good today. Learn more at NationalLife.com
Contact: Ross Sneyd, corporate communications, National Life Group, 802.229.3866.
National Life Group® is a trade name of National Life Insurance Company, founded in Montpelier, Vt., in 1848, Life Insurance Company of the Southwest, Addison, Texas, chartered in 1955, and their affiliates. Each company of National Life Group is solely responsible for its own financial condition and contractual obligations. Life Insurance Company of the Southwest is not an authorized insurer in New York and does not conduct insurance business in New York. Equity Services, Inc., Member FINRA/SIPC, is a Broker/Dealer and Registered Investment Adviser affiliate of National Life Insurance Company. All other entities are independent of the companies of National Life Group.
TC15048(0620)1