Alliance for Children "Healing Tree" Represents Restoration for Abused Kids, Corporate Values for National Life Group Volunteers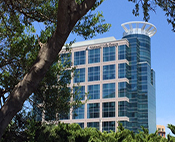 Fort Worth, TX - (August 14, 2017) Five years ago when Alliance For Children's Director of Clinical Services, Diana Davis, began to brainstorm ideas for a new art therapy project, she immediately thought of how another child advocacy center had depicted the symbolism of trees and their seasonal cycles of life and restoration. If art designed from the children's hands were the leaves and the organization's founders, staff and board members' hands were the roots and trunk, she wondered, the project could uniquely convey the healing process that the 25-year-old Tarrant County agency provides its abused clients.
But she wasn't sure where to start. That's when National Life Group stepped in.
"I first met National Life Group folks when they came to donate an art tablet to the clinical program," Davis recalled. "During that meeting, they expressed an interest in helping out in other areas so I mentioned my idea of the healing tree. They were super excited and from there the process began."
National Life Group, a national financial services company whose corporate values lie in doing good in the communities and with the individual families it serves, immediately stepped up to help. Deanna Johnson, a graphic designer with the firm, offered her artistic talents to the project. She designed a multi-panel tree depicted in four seasonal stages to be printed on aluminum. Six other National Life Group employees volunteered to install the panels of the tree art on Tuesday, Aug. 15 from 10 to 11 a.m. at the new AFC Northwest facility at 8401 Jacksboro Hwy., Lakeside, TX. The volunteer installers are Beth Rusnock, Deanna Johnson, Chris Newbern, Sandy Mollett, Jennifer Roberts and NeAndre Broussard.
"National Life Group's interest in this project derives from our employees' deep passion to live our company values to do good, be good and make good, every day," said Maria McLendon, Head of Retirement Marketing. "We are thrilled to be a part of this project."
Alliance For Children, which protects Tarrant County children from child abuse through teamed investigations, healing services and community education, provides both individual and group counseling for their clients. When each child "graduates," AFC staff hold a graduation ceremony to celebrate them, their hard work and the fact that they are strong and brave.
"Now when each child graduates they will leave their handprint somewhere on the tree," Davis said. "Just as a tree can survive a storm so have these children survived their own kind of storm and can come back to life with beauty and strength. I hope that this tree will be a source of encouragement to them as well as children and families who are about to begin their own healing process. I also hope this tree will be a reminder to our staff of why we do this work and a source of encouragement to keep doing our best and keep fighting the good fight."
ABOUT ALLIANCE FOR CHILDREN: Alliance For Children (AFC) is a multi-disciplinary community coalition of experts who work side by side to efficiently and collaboratively bring justice and healing to children and families affected by child sexual abuse, severe and life-threatening physical abuse, severe neglect and child fatalities. Its mission is to protect Tarrant County children from child abuse through teamed investigations, healing services and community education. The nonprofit agency, which has been protecting Tarrant County children for 25 years, brings to children and families the resources of Child Protective Services (CPS), law enforcement, volunteers, the District Attorney's office, medical providers, therapists, family advocates, forensic interviewers and therapy dogs and their handlers. See http://www.allianceforchildren.org/.
ABOUT NATIONAL LIFE GROUP: At National Life, our story is simple: For more than 168 years we've worked hard to deliver on our promises to millions of people with our vision of providing peace of mind in times of need. It's our cause, stemming from a deep passion to live our values to do good, be good and make good, every day. Learn more at NationalLife.com.
Contact: Ross Sneyd, corporate communications, National Life Group, 802.229.3866.
National Life Group® is a trade name of National Life Insurance Company, founded in Montpelier, Vt., in 1848, Life Insurance Company of the Southwest, Addison, Texas, chartered in 1955, and their affiliates. Each company of National Life Group is solely responsible for its own financial condition and contractual obligations. Life Insurance Company of the Southwest is not an authorized insurer in New York and does not conduct insurance business in New York.
TC95211(0417)3