Alabama High School Teacher Named National Life Group's 'LifeChanger of the Year' Grand Prize Winner for 2017-18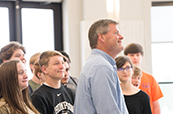 Montpelier, VT - (May 21, 2018) Brian Copes, pre-engineering teacher at Thompson High School in Alabaster, AL, has been selected as the Grand Prize Winner for the 2017-2018 national LifeChanger of the Year award.
Growing up, Copes struggled with school until a technology teacher changed his perspective. This experience played a role in influencing his teaching style. As an educator, Copes has found success incorporating both project-based learning and service learning into his instruction.
"We've built a hydroelectric power plant that we've taken to Honduras to generate electricity for a rural medical clinic. We've also built prosthetic legs out of Toyota Corolla motor mounts that have outfitted 14 amputees in Honduras," Copes explained. "One of the amputees had been contemplating suicide, and the leg my students provided him gave him hope. That's what I love about these projects – they open students' eyes and instill a passion for helping others."
Recently, Copes led a group of educators to Honduras to establish a sister school partnership. As a result, students from Thompson High have been able to travel to Honduras to work on multiple projects:
In 2016, Copes led Information Technology (IT) students from Thompson High School to install computer labs in three different Honduran schools. These labs connected the Jutiapa schools to Alabaster City Schools, where teachers turn on their web cams and share their lessons.
The Earth Science students delivered and set up three water chlorinators, which create up to 30,000 gallons of safe drinking water per day. Students trained the Jutiapa community how to set up these chlorinators and use them to test their water sources
Health Science Academy students volunteered in a free medical clinic located at the base of the Cloud Forest. These students trained local Hondurans on basic emergency medical care.
The Sister School partnership gives students a better understanding of cultural awareness and diversity. They discover a world outside of themselves and develop a desire and thirst to change the world.
"Brian exemplifies what it means to be a LifeChanger. His story is one of innovation and servant leadership," said Mehran Assadi, Chairman, CEO and President of National Life Group. "The extraordinary work his students undertake – from developing prosthetic legs to building classrooms out of shipping containers – prepares them to live and work in a 21st century workforce. More importantly, each project he and his students work on has a greater purpose: to make the world a better place to live."
LifeChanger of the Year is an annual program sponsored by the National Life Group Foundation that recognizes and rewards outstanding K-12 educators and school district employees who have demonstrated a proven ability to make a beneficial difference in the lives of students.
Contributing positively to the school's culture and providing a nurturing atmosphere

Being involved in leadership within their school and/or community

Demonstrating a proven record of excellent performance at the professional level

Adherence to high moral and ethical standards.
"Brian is a living embodiment of the phrase 'real-world learning,'" said Amy Fineburg, a colleague. "He constructs problems for his students to solve, and as a result, his students not only learn, but they make a difference in the world. He is a true LifeChanger."
As the National Grand Prize Winner, Copes—who was nominated by colleague, Cena Davis—receives a $10,000 cash award, which is split between a $5,000 individual award and a matching $5,000 donation to Thompson High School. Copes was selected for the Grand Prize out of more than 820 teachers, administrators and school district employees from all 50 states and the District of Columbia.
In addition to Copes, four other educators from across the country were recognized as 2017-18 LifeChanger of the Year Grand Prize Finalists. Each Finalist received a $2,500 cash reward with a matching $2,500 donation made to their schools. All Finalists were recognized at a national awards ceremony on Thursday, May 17th, 2018 in Bermuda.
James Davis – Bus Driver
Ware Shoals School District 51
Ware Shoals, SC
Lauren Kennedy – Assistant Principal
Eastside Elementary School
Denham Springs, LA
Olivia Benford – Parental Engagement Director
Pharr-San Juan-Alamo Independent School District
Pharr, TX
Stephanie Killingsworth – Science Teacher
Conniston Middle School
West Palm Beach, FL
Twelve additional cash awards were given out to LifeChanger of the Year winners from Alabama, California, Florida, Georgia, Michigan, New Hampshire, New York, Ohio, and West Virginia.
For a complete listing of this year's LifeChanger of the Year winners, visit: https://lifechangeroftheyear.com/201718-winners
To learn more about Brian Copes, visit: https://nationallife.wistia.com/medias/xwdy15n0ot
National Life Group® is a trade name of National Life Insurance Company, founded in Montpelier, Vt., in 1848, Life Insurance Company of the Southwest, Addison, Texas, chartered in 1955, and their affiliates. Each company of National Life Group is solely responsible for its own financial condition and contractual obligations. Life Insurance Company of the Southwest is not an authorized insurer in New York and does not conduct insurance business in New York.
In Texas, due to regulatory concerns, National Life Group will donate similar items to the winner or a nonprofit group of NLGroup's choice that supports the winner's school.
TC95211(0417)3