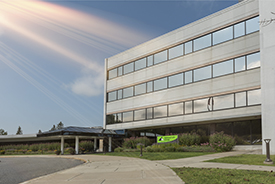 Montpelier, VT (April 25, 2019) - AM Best, a global rating agency, has improved the ratings outlook of the insurance companies of National Life Group from stable to positive, reflecting the companies' "continuing trends of strong sales growth, outperforming the broader life insurance market."
AM Best also reaffirmed the insurance financial strength rating of A (Excellent) for National Life's two insurance companies, National Life Insurance Company and Life Insurance Company of the Southwest.
The Additional Notes have not been registered under the Securities Act and may not be offered or sold within the United States absent registration or an applicable exemption from the registration requirements.
"We're gratified by this third-party endorsement of our strong and balanced growth," said Mehran Assadi, Chairman, CEO and President of National Life. "With a focus on our cause and our mission, National Life has been growing steadily and responsibly for the past decade."
AM Best noted in a news release that, "Profitable growth has led to an improved market position and increasing market share with its niche products, such as its offerings in the K-12 educators market and indexed universal life."
National Life is here to bring you peace of mind. We've been keeping our promises since 1848. Believe in tomorrow, do good today. Learn more at NationalLife.com
Contact: Ross Sneyd, corporate communications, National Life Group, 802.229.3866.
National Life Group® is a trade name of National Life Insurance Company, founded in Montpelier, Vt., in 1848, Life Insurance Company of the Southwest, Addison, Texas, chartered in 1955, and their affiliates. Each company of National Life Group is solely responsible for its own financial condition and contractual obligations. Life Insurance Company of the Southwest is not an authorized insurer in New York and does not conduct insurance business in New York.
TC07630(0419)1