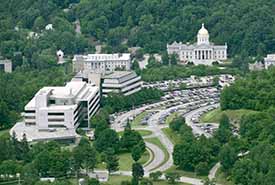 Montpelier, VT (May 8, 2020) - Rating agency A.M. Best Co. has reaffirmed its financial strength rating of A (Excellent) for the insurance companies of National Life Group.
CEO Mehran Assadi called the action "a strong endorsement of National Life's financial strength."
"Our mission is to deliver on our promises," he said. "I am very pleased that A.M. Best has reaffirmed our excellent rating, which reflects our financial strength."
Assadi said that most importantly A.M. Best maintained a positive outlook on the company.
"In this time of such economic uncertainty – when rating agencies generally have a negative view of the insurance industry – this is a huge endorsement of our company, our strength and our strategy," he said.
In its release detailing the decision, A.M. Best said:
"The ratings reflect National Life Group's balance sheet strength, which AM Best categorizes as very strong, as well as its strong operating performance, favorable business profile and appropriate enterprise risk management (ERM)."
"The group has a long history of successful execution in targeting life insurance and annuity product solutions to the middle market segment, which it markets through a combination of career agents and a growing independent agency force. The group's strong sales growth trends continued through year-end 2019, but remain challenged to grow at a similar pace through the rest of 2020 due to the coronavirus crisis, although its use of an e-application process will help. Recent profitable growth has led to an improved market position and increasing market share with its niche products, such as its offerings in the K-12 educators market and indexed universal life. The ERM assessment of appropriate is reflective of the group's well-established governance structure, culture and risk management controls."
"The positive outlooks reflect a continued strengthening trend in the group's balance sheet strength, including currently maintaining a strongest level of risk-adjusted capitalization, as measured by Best's Capital Adequacy Ratio (BCAR), and improvements in the risk profile of the group's investment portfolio due to recent de-risking initiatives. In addition, the company has run risk-based capital stress testing scenarios for the coronavirus crisis, which show 2020 risk-based capital levels remaining in excess of company defined risk thresholds."
National Life is here to bring you peace of mind. We've been keeping our promises since 1848. Believe in tomorrow, do good today. Learn more at NationalLife.com
Contact: Ross Sneyd, corporate communications, National Life Group, 802.229.3866.
National Life Group® is a trade name of National Life Insurance Company, founded in Montpelier, Vt., in 1848, Life Insurance Company of the Southwest, Addison, Texas, chartered in 1955, and their affiliates. Each company of National Life Group is solely responsible for its own financial condition and contractual obligations. Life Insurance Company of the Southwest is not an authorized insurer in New York and does not conduct insurance business in New York.
A.M. Best Financial Strength Rating of A (Excellent) is 3rd out of 15 ratings. Ratings are subject to change.
TC114468(0520)1